Faithbridge United Methodist Church began in 2009 from the idea that members wanted to bridge the gap between God and people, people to God, and people to people – hence the name Faithbridge. A common phrase you may hear is "No Perfect People Allowed!" Faithbridge is known locally for our annual food truck ministry which feeds more than 300 families, our Books for Kids program at School of the Osage, and our contemporary worship style.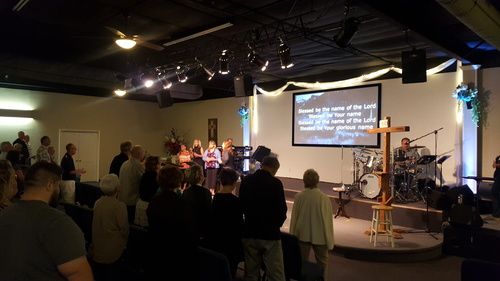 Faithbridge meets every Sunday at 9:30am for service at 901 Highway 42 in Osage Beach, Missouri. Everyone is welcome. Worship is provided through modern music, a message on timeless scripture, and use of multi-media technology. During service, childcare is available for ages 0-6.
Faithbridge UMC is part of a larger network of more than 600 United Methodist churches in the state of Missouri, and part of the worldwide United Methodist church of more than 12 million people.

Faithbridge UMC works to help make NEW, STRONGER, and ACTIVE disciples of Jesus Christ.
Be a part of our story...
Join us every Sunday as we gather to worship together a 9:30 am